Our Team
---
Cecil J. Lyon
Lawyer/CFL Panellist/Mediator
cecil@lyonfamilylaw.ca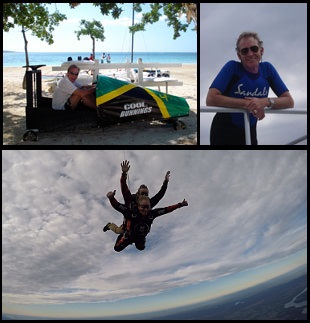 Cecil has been helping people resolve their disputes since he started practicing law in 1989. Cecil's practice focuses on Appropriate Dispute Resolution (ADR).
Stepping outside the traditional adversarial box whenever possible, Cecil uses a problem solving approach rather than a problem-making approach. The key lies in identifying the legal issues and working with and for the client to select the most appropriate dispute resolution tool or tools based on their particular facts and legal issues. The goal is to help clients resolve their disputes as quickly and cost-effectively as possible. Cecil's practice focuses on all types of family law disputes with particular emphasis on litigation prevention and Appropriate Dispute Resolution including mediation, Collaborative Family Law, arbitration, early neutral evaluation (ENE) and principled negotiations.
Cecil also has extensive experience doing both trial and appellate work. Cecil has appeared in the Superior Court of Justice, Ontario Court of Appeal, Federal Court of Canada, Immigration and Refugee Board, Ontario Labour Relations Tribunal and the Federal Court of Appeal.
Outside the office Cecil can be found on the ice coaching or playing hockey, the ski hill (but only in the winter), fly fishing (at any time of the year), golfing, SCUBA diving, Bungee jumping, zip-lining, curling or spending as much time as possible with his son who is the apple of his eye.
Cecil is an Honoured Fellow of the Canadian Institute for Conflict Resolution.
Cecil was a long time columnist with the Lawyers Weekly and a member of the Collaborative Family Law Network where he is a panel lawyer. He is also a Rostered Mediator with the Ontario Mandatory Mediation Program at Ottawa.
Cecil is past President of the Dispute Resolution Centre for Ottawa-Carleton, a member of the Association for Conflict Resolution, National Institute for Dispute Resolution (NIDR), Ontario Association of Family Mediation (OAFM), Family Mediation Canada (FMC), Society for Conflict Resolution (SCRO), Network: Interaction for Conflict Resolution and other dispute resolution organizations. He has extensive training in ADR beginning in 1986. He carries on an active mediation practice including commercial and family mediations. He is the past Chairperson of the Canadian Bar Association (Eastern) ADR Section and a past member of the Canadian Bar Association's National ADR Section.
Cecil has appeared on the CBC program "The Docket"and been a panellist on CBC radio. Cecil has been a participant in many Continuing Legal Education programs offered by the County of Carleton Law Association and the Law Society of Upper Canada as well as teaching Judges how to mediate. Cecil has also taught at the Bar Admission Course for the Law Society of Upper Canada, the Faculty of Common Law, University of Ottawa and Queen's University Faculty of Law.
Back to top
---
Alexei Durgali
Lawyer
alexei@lyonfamilylaw.ca
Alexei's practice is focused primarily on family law. He finds it personally rewarding to help people move on with their lives by developing long-lasting and cost-efficient solutions to their family disputes.
Alexei comes from Borden Ladner Gervais (BLG), a national law firm, where he was part of a crisis-driven family law practice. He worked on complex parenting, child support, spousal support, and property cases in the context of high-conflict litigation in the Ontario Superior Court of Justice. Alexei also negotiated domestic contracts and represented clients who chose mediation or arbitration instead of going to court.
Prior to working at BLG, Alexei was an associate at the Law Office of Audra Bennett, where he also completed his articling program. His practice involved working with victims of domestic violence and economically disadvantaged families.
Alexei graduated law school from the University of Ottawa in 2013. While in law school, he assisted self-represented litigants at the Ottawa Family Law Information Centre with their family court matters. Before law school, Alexei conducted legal research for a charity working with Ukrainian street youth.
In his free time, Alexei enjoys cross-country skiing in the Gatineau hills, working in his backyard garden, biking, and just being outside with his family.
Alexei is fluent in English, Russian, and Ukrainian.
Back to top
---
Our Legal Assistants
We are proud to have two highly competent, hardworking and efficient legal assistants as part of our team. Jaclyn and Rebecca work tirelessly to keep our practices organized, ensure effective communication between lawyers and clients, prepare legal documents, gather and assemble financial and other disclosure, and schedule meetings and court appearances.
| | |
| --- | --- |
| jaclyn@lyonfamilylaw.ca | rebecca@lyonfamilylaw.ca |
| Jaclyn Jensen is a 1999 graduate of the Algonquin College Legal Assistant Program, and has been with our firm since May 2005. Jaclyn is indispensable in handling our firm's accounting, administrative and legal clerk duties. | Rebecca Ibrahim received a post-graduate certificate in Paralegal Studies from Algonquin College in 2021 and has a Bachelor of Arts in Law and Legal Studies from Carleton University. Rebecca became part of our team in October 2021. She is an invaluable resource, providing a myriad of legal clerk and administrative duties. |
Back to top